Just an EOI at the moment, as I'm currently about to start a new job and move out, so still a few things to sort out in my life. I may possibly go the way of moving close to work where I won't have a garage, or just getting a shitty cheap daily while I organise paying for rent and all that. Either way, I would like to put the word out early just in case. Note that I'm not 100% sure of the specifications and details of all the mods. I'm currently in Phuket until next week, so I'll sort out any confusion when I get home.
The car currently has about 150-160k on the clock and is running perfectly fine. It is my beloved daily
Gear box had to be changed 2 weeks after I bought it
I believe it had a leak in one of the seals (I guess they cleaned it up pretty good before I came to inspect it
) and thus ran dry. The gearbox currently fitted would be in the exact same condition as when I bought it. When it comes to shifting gears, I drive like a freakin granny. None of that slamming between gears and dumping the clutch. Seriously, even on the track, what is the point of that? If anyone comes to test drive it and slams the clutch in and out quickly between gear changes, I'm going to punch them in the ear. It's all about bein' smooooooth. Anyway, rant over. Here goes:
Mods when I bought it (there are receipts for all of these. The previous owner was pretty good with that stuff!):
-Heavy duty clutch (unsure of brand, have to come back to this)
-Imports101 custom full exhaust
-Stupid heavy 17's
-Pod filter
Mods I've done:
-Replaced gearbox (can't remember the k's, but according to Warren in my ride blog, it looked like a "
clean low k box". Cheers Waz!)
-Strengthened selector fork (Cheers Glenn!)
-Cusco front strut brace
-Cusco rear strut brace
-Cusco under body brace (the 4 point one, type 2)
-BC BR series coilovers
-Whiteline castor kit
-15" vork (6kg/rim. Made a huge difference over the old 17's) powdercoated black
-Advan neova ad08 tyres (exact specifications and pics to come)
-Reconditioned evo 3 calipers + HEL braided lines + clio slotted rotors + project Mu B-spec pads (this setup stops you good!)
-Oil cooler (13 or 11 row I think? I'll have to come back to this) fitted in the brake duct
Things that I never got around to fitting:
-Radiator plate
-Brake master cylinder stopper
As is most likely quite obvious from the list above, the mods done are to make it drive better, not faster (well, faster around corners). I modified this car in a way that seemed the most sensible to me. If anyone wants to check out my
ride blog
you can see how much of a difference these mods made on my time at Barbagallo race track.
Oh, pictures! There is a small dent at the front of the bonnet and crack in the main bonnet vent. There's also another small dent on one of the doors. I'll get some close up pics of it when I get home. (plus some fancy ones that make it look really nice). Until then, here are a few pics that I already have.
Evo 3 calipers + renault clio slotted rotors: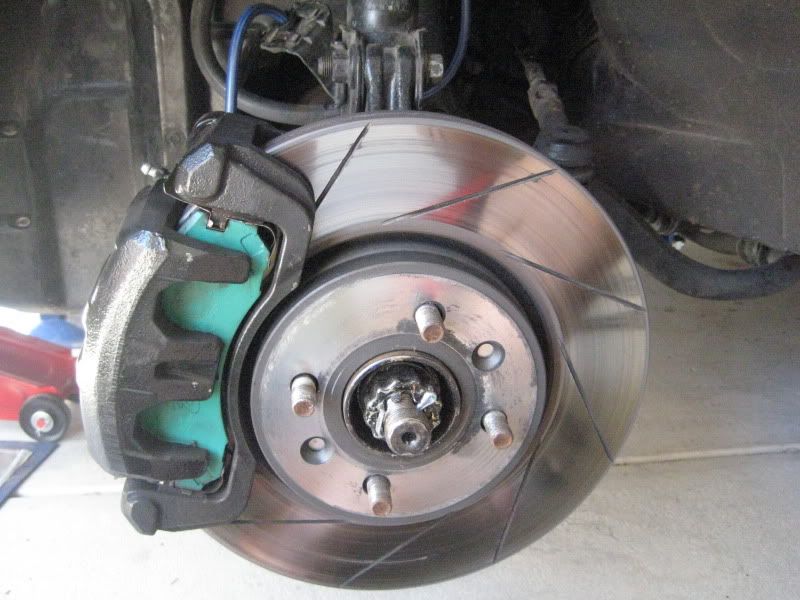 Track night (I couldn't find the chamois after I washed it...)
I have a feeling this was right after the suspension was fitted and before it was raised a little.
Black on black = Sexy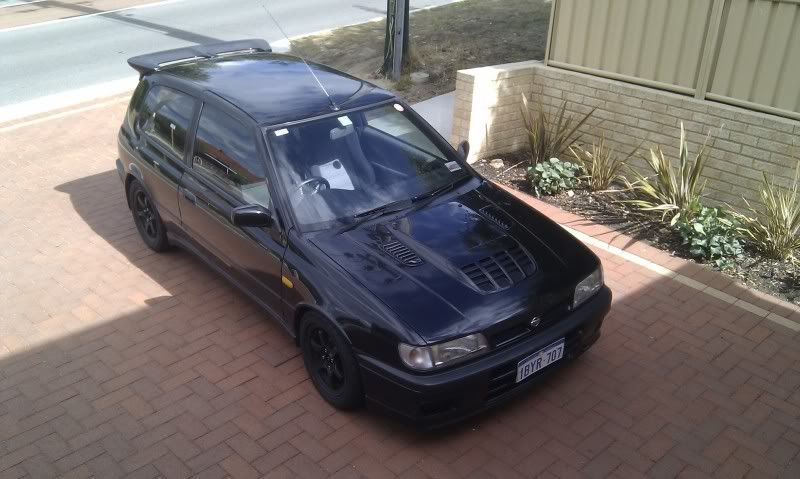 I'll have to add up how much I've spent on it and do a little research on what's a decent price for this when I get home. Feel free to shoot me some offers though.
EDIT: spelling and grammatical errors....
Edited by godzilr, 18 February 2012 - 10:04 AM.